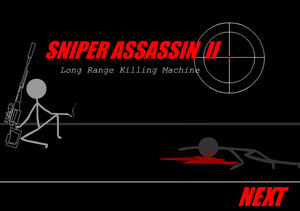 Welcome to the Wiki
Edit
Sniper Assassin Wiki is a collaborative website about Sniper Assassin that anyone can edit!
Sniper Assassin
Edit
Sniper Assassin is a wonderful game with drama that actuatly lets you connect with the main protaganist.
The main protaganist is Shawn and is the only playable character.
Latest activity
Edit
Sniper Assassin Zero, the prequel to the online series, has been released for mobile and is available on iTunes and in Google Play.
https://play.google.com/store/apps/details?id=air.com.gonzogames.sniperassassinzero.SniperAssassinZero0.A1
https://itunes.apple.com/us/app/sniper-assassin-zero/id774798920?ls=1&mt=8
Ad blocker interference detected!
Wikia is a free-to-use site that makes money from advertising. We have a modified experience for viewers using ad blockers

Wikia is not accessible if you've made further modifications. Remove the custom ad blocker rule(s) and the page will load as expected.